Technology
Chrome OS: Windows apps work with Parallels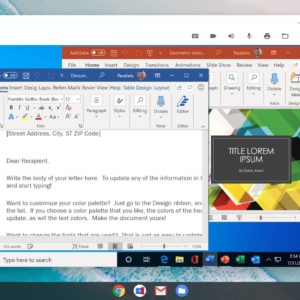 Chromebooks can now run Windows apps. This is possible thanks to Parallels Desktop and its virtual machine solution. The partnership between Google and Parallels Desktop was first announced a few months ago.
Chrome OS can now launch a full version of Windows in a virtual machine to access existing desktop apps. It is designed for immediate business. Only businesses can purchase Parallels Desktop for $ 69.99 per user.
Parallels Desktop launches a full copy of Windows so that Microsoft's operating system can stand alongside Chrome OS and Android apps. Chrome OS even forwards some types of Windows files directly to Parallels' virtual machine. It should be noted that printers used on Chrome OS are used in the Windows virtual machine. However, this is not the case with other USB devices (such as a microphone or webcam). An update will add this support later.
Parallels Desktop for Chromebook Enterprise is the result of a collaboration between Google and Parallels. They highlight three elements:
Use the full potential of the Chromebook and the power of the Windows ecosystem. Enjoy the security of Chrome OS and the popular Google management tools. Reduce hardware, infrastructure and administration costs At the same time, employees can stay efficient and dynamic
Report a bug in the text
Thank you for pointing out the bug. We'll fix it quickly.
Interesting? Share the news!
4th
Keep in touch with us 🙂