Technology
Haptic PIVOT: Microsoft presents a sophisticated haptic system for VR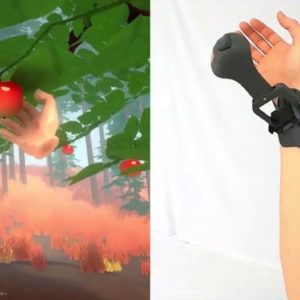 The virtual reality sector is booming both commercially (the Oculus Quest 2 is sold like vaccines in times of pandemic) and technological. Microsoft Research is advancing existing technologies with the Haptic PIVOT, a haptic system that gives the hands haptic feedback and leaves them free (no controller). The process is particularly ingenious: a mechanized arm places a haptic area in the palm of the hand according to the user's actions in the virtual world. The latter grabs an apple? The lever swings towards the palm of the hand and this makes it possible to physically feel the contact of the target object. Shall we throw the apple on the ground? The lever quickly swings back towards your forearm as if you were really getting rid of the fruit.
In addition, you need to know more about it.
Of course it is still possible to use two haptic PIVOTs (one per hand). The Haptic PIVOT is currently still in the prototype stage, but the technology already looks very promising.
Report a bug in the text
Thank you for pointing out the bug. We'll fix it quickly.
Interesting? Share the news!
Keep in touch with us 🙂