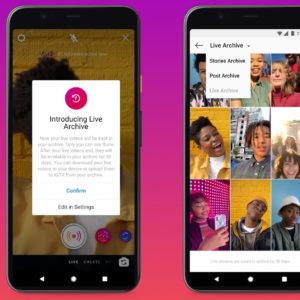 Instagram relies a little more on live content. The social network is announcing three new features for live video, including a longer duration for everyone.
Now users can record live video up to four hours in length. The previous limit was one hour. Suffice it to say that people who like to speak will particularly appreciate this change. In this regard, Instagram states that the four hours will not be available to users who have not followed the platform's rules in the past.
In addition, Instagram announces that users can now keep a copy of the live videos for 30 days. As soon as this time is reached, the content will be deleted. Finally, a "Live Now" section will appear on the IGTV application and the Explore section of Instagram. This is a great way to discover live video from people you don't follow. You might be interested in them.
Updates3 updates to Live🌟
🎥You can now go live for up to 4 hours
🎞You can save your lives for 30 days before they are deleted
📺 A "Live Now" section is displayed in the IGTV app and Explore where you can discover more lives. Pic.twitter.com/0wipQJXr1F
– Instagram (@instagram) October 27, 2020
These live video changes are now available to everyone, anywhere.