Technology
Salto, the "French Netflix", is available today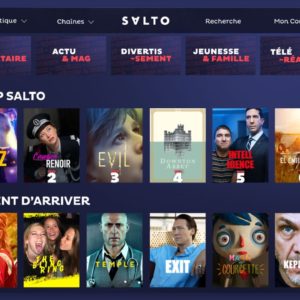 Let's go ! Salto is now available to everyone. This French streaming service is owned by TF1, France Télévisions and M6. Three offers are available to compete with Netflix, Disney +, and the others.
Salto relies heavily on French films and series. At the start, 10,000 program hours are available, with the aim of increasing to 15,000 hours in the first quarter of 2021. However, the service also has some European and even American content. For European content, for example, the series The Pier, created by the creator of La Casa de Papel, is on Salto. For American content we can take the example of The Handmaid's Tale series or the Rocky films.
There is also the option to watch TV channels (around twenty initially) live. There are TF1, France 2, France 3, France 5, M6, W9, TMC, TFX, France 4, Gulli, TF1 series films, 6ter, France Info, TV Breizh, Téva, Paris Première, Ushuaïa TV and Histoire TV . We also find the repetitions of the channels.
Salto price
There are three offers. The first offer is Solo and costs € 6.99 / month. For this price, the subscriber can see Salto's programs on one screen. You need to use the Duo formula for € 9.99 / month to view on two media at the same time. For families there is a Tribu offer for € 12.99 / month. This allows you to see somersault on four screens at the same time. The first month is free regardless of the offer.
Where can you see somersaults?
Salto is now available on the salto.fr website. It is also possible to update the iOS / tvOS app for iPhone, iPad and Apple TV as well as the Android app for Android smartphones and tablets as well as devices with Android TV. Note that Chromecast is supported to allow broadcasting on your TV.
We let you discover the Salt # Salto platform pic.twitter.com/iNFqCpKUvC
– Salto (@Salto_fr) October 15, 2020
Salto is not yet available in operator boxes. Negotiations are ongoing, but TF1, France Télévisions and M6 still don't say if it will be ready soon. However, the streaming service has already announced that it will also be available on TNT in a few months.