Technology
The Osiris Rex probe passed its "touchdown" on the asteroid Bennu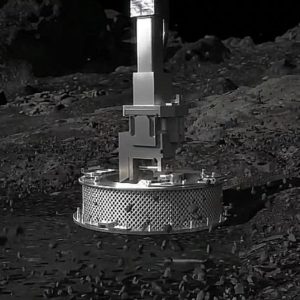 As expected, NASA's Osiris-Rex probe successfully completed its "touchdown" on the surface of the asteroid Bennu on the evening of October 20th. During this very brief contact, the probe attempted to take samples from the asteroid. A robotic arm hurled a jet of nitrogen toward the surface to break boulders. We now have to wait a few days before we are sure that this process has been successfully completed. Finally, it should be noted that the entire mission was carried out autonomously. This means that the ground teams did not have direct control over the various phases of the operation.
LAND!
Sampling is running 💥 # ToBennuAndBack pic.twitter.com/8dj2g8AUxK
– NASA's OSIRIS-REx (@OSIRISREx) from October 20, 2020
Despite the spectacular occurrence of this brief contact with Bennu, the main objective of Osiris-Rex was to collect at least 60 grams of regolith, which is the largest sample since the Apollo lunar missions. If the sample volume is less than expected, a second harvest attempt is planned for January 2021.
Report a bug in the text
Thank you for pointing out the bug. We'll fix it quickly.
Interesting? Share the news!
2
Keep in touch with us 🙂