Technology
Xiaomi wireless charging 80 W: 19 minutes to charge to 100%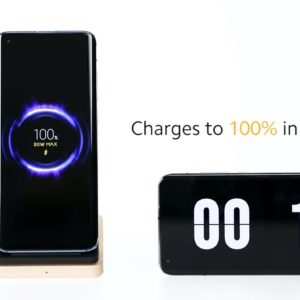 Xiaomi today introduces a new 80W wireless charging technology. The manufacturer assures us: it only takes 19 minutes to fully charge a smartphone with a 4000 mAh battery. Last year Xiaomi came with 30W wireless charging. A 40 W variant was presented in spring and a further 50 W variant this summer.
The brand states that it takes 1 minute to go from 0% to 10%, 8 minutes to go from 0% to 50%, and therefore 19 minutes to get a full charge. In comparison, it takes 25 minutes to charge 50% and 69 minutes to fully charge with 30W wireless charging.
In a demo video, Xiaomi presents its 80 W wireless shop with a modified Mi 10 Pro. We can see that it took 19 minutes and not a minute longer to fully charge.
Xiaomi has not yet announced when its 80W wireless charging technology will be available. You must also have a compatible phone. Currently, the Mi 10 Ultra accepts wireless charging up to 50 W. We will therefore have to wait a few more months until the new smartphones and the new very fast wireless charging are available. The manufacturer does not yet say which will be the first compatible model.