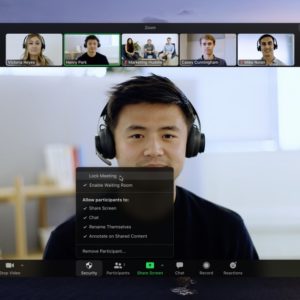 Zoom now offers to increase the security of video calls. The service implements end-to-end encryption. This prevents Zoom or a third party (e.g. a hacker) from listening to the conversation. It's good to see that this feature is currently in beta.
How to enable end-to-end encryption with Zoom:
Connect to your Zoom account on the service's website. Go to your profile at this address or by clicking your avatar at the top right of the screen and then clicking your name in the drop-down menu. Go to "Settings" ", using the side menu on the left, scroll down in the middle column to the setting" End-to-End Encrypted Meetings (E2E) "and activate it. Enter your phone number to get a code This helps to verify your identity. You can then choose the type of encryption: The most secure mode is "end-to-end encryption".
According to Zoom, end-to-end encryption increases your video calls even more. "Unlike Zoom and other third parties, only you and your attendees can decrypt the meeting," the service said. End-to-end encryption is blocked with cloud-based functions. This is the case with cloud recording and phone calls.
Report a bug in the text
Thank you for reporting the bug. We'll fix it quickly.
Interesting? Share the news!
6th
1
Keep in touch with us 🙂